I'm linkin up with
Lauren Elizabeth
for her High Five for Friday post this week!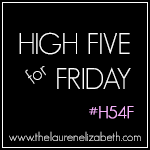 1. Dress Down Jeans Day TODAY!!!
jeans + black top with beading: LOFT
watch : Liz Claborne (JCPenney clearance)
Woo!!!! I'm rockin' my new(ish) LOFT jeans. Heck, yes. So comfy and cute. I am saddened though because we've had another heat spike here in the Ohio... and its going to be 81 today. No boots for me! Still rockin the cute sandals... I guess I should revel in it. I love sandals.... well, maybe not today.. but usually.
2. I've found a new "system" for making dinner
Since school started, I've dreaded making food. I come home from school and I'm exhausted. Thus, I usually opt for the unhealthy, pre-packaged food for Wade and I for dinner. I hate being unhealthy all the time. And when I don't even want to do pre-packaged .. we eat out.... even more unhealthy...
BUT, I had a revolution in my kitchen late Tuesday evening. I realized, that if I make our dinner... eat... and then cook the next day's meal so that all I have to do is heat it (crockpot, stove, oven, microwave) the next day-I will cook healthy things! Its awesome! I spend about the same amount of time cooking, but I'm not starving like I usually am when I make dinner the old-school way. I kinda feel like what I'm doing with my kitchen could be compared to "flipping" a classroom --- it's the "flipped" kitchen :)
3. Tomorrow.... Tomorrow... I love you...
I'm getting a massage and my hair dyed/styled. So excited for a mid-afternoon of relaxation! Much needed after the chaos of life lately.
P.S. : It seems that many of the blogs I'm reading have a general theme (as well as other teachers I talk with)... we are all tired and dealing with things in life that aren't easy. I'm just glad to know that I have kindred souls who remind me that I'm not alone in my fried, mush brain syndrome I've been dealing with lately. Maybe, we all need to carve out a little love time for ourselves.
My new favorite hair spray
4. Birchbox love <3
I ordered my first Birchbox inspired purchase yesterday. I just love this hairspray ....
Meta Luxe Hair Spray by Serge Normant
. It has amazing hold and kept my spiral curls in tact all day while teaching - with humidity in the air! That never happens! Its not the best on my flat ironed hair because it seems to sticky/stiff to run my fingers through, but its great for updos or curls! Love!
5. My man :)
My man cleaned- swept and did the dishes for me this week. I came home from the longest day ever and he had cleaned. That's why I love him!